Kansas City is a growing cultural center of the Midwest. Music Academy of Kansas City is in the middle of cultural scene of the city.
Everyone of us has music inside them. We believe that you just have to learn to listen to it! Music Academy of Kansas City is excited and would be honored to see you in our studios making and sharing your music with us!
Explore the music with a program that fits your experience and your style of learning.
"I have had the pleasure of taking lessons from Maya for the past three years. Her teaching style smoothly combines technical growth, music theory, and musical history in an efficient lesson plan. She provides the structure for continued growth, but gives the student input on their development path. I cannot say enough good things about her. She is fun, engaging, and talented! I would recommend her to anyone wanting to learn Piano."
– Eyual Getahun, Overland Park, KS
This is the story of Music Academy of Kansas City as told by Maya Tuylieva (founder and owner of MAKC).
Tell us about your life experience before starting MAKC:
I am from Turkmenistan, a post-Soviet country that borders with Iran, Afghanistan, Uzbekistan and Kazakhstan. I came to the United States in 2001 to get an education and ended up staying here until I graduated with my Doctoral Degree in Piano Performance from University of Kansas. With receiving education, I received a lot of opportunities to perform all over the world. The highlight of all performances was my performance at Carnegie Hall, NY.
What made you want to start MAKC?
Creating a music school has always been my dream. However, when I moved to the United States to attend college, I would have never dreamed of marrying a Kansan, settling down in Kansas City and falling in love with the area. Music Academy of Kansas City (at that time Piano Academy of Kansas City) was established in 2015 in a tiny rental room at the Crossroads District in downtown Kansas City. I was so excited to share my experience with all my students and guide them through their musical journey. Before too long, we started to expand in order to accommodate the growing student body. Six years later, we have close to 100 students in our Overland Park location on 87th and Antioch.
As we have grown, we have added knowledgeable and caring faculty members. Our stories and backgrounds hail from all over the world, and our common language is music. And because of that, we are now proud to offer lessons for piano, music composition, voice, guitar, violin, cello, saxophone, and clarinet.
Our faculty and students at the Music Academy of Kansas City are surrounded by a cultural scene in the Midwest that continues to grow and thrive. Each of our instructors has an inner passion for music and has extensive training, which allows them to provide the highest level of education for our students.
How has MAKC changed both your life and the life of others?
It goes without saying, building anything from scratch is never a smooth road – there was plenty of trial and error. However, as for many schools all over the world, it was the toughest during the pandemic last year. We practically had to reinvent ourselves, and the result was our online program. Our teachers were wonderful at adapting and within one week had completely adjusted their lessons to be taught online. Our online program allowed us to reach students anywhere in the country and even internationally.
We were also so fortunate with our parents and students, who supported us and were so patient and understanding through the whole process. We are so grateful to our families; we would not be here today without their continued support.
What does music mean to you?
Besides my family, music is everything in my life. That is the world I like to escape into when I have stress in my life. I also believe that everyone has music inside them, and our jobs as teachers is help you learn to listen for it.
What are your hopes for MAKC's future?
We hope MAKC will continue bring the joy of music into the lives of our students for long time to come. We would love to see you here in our studios.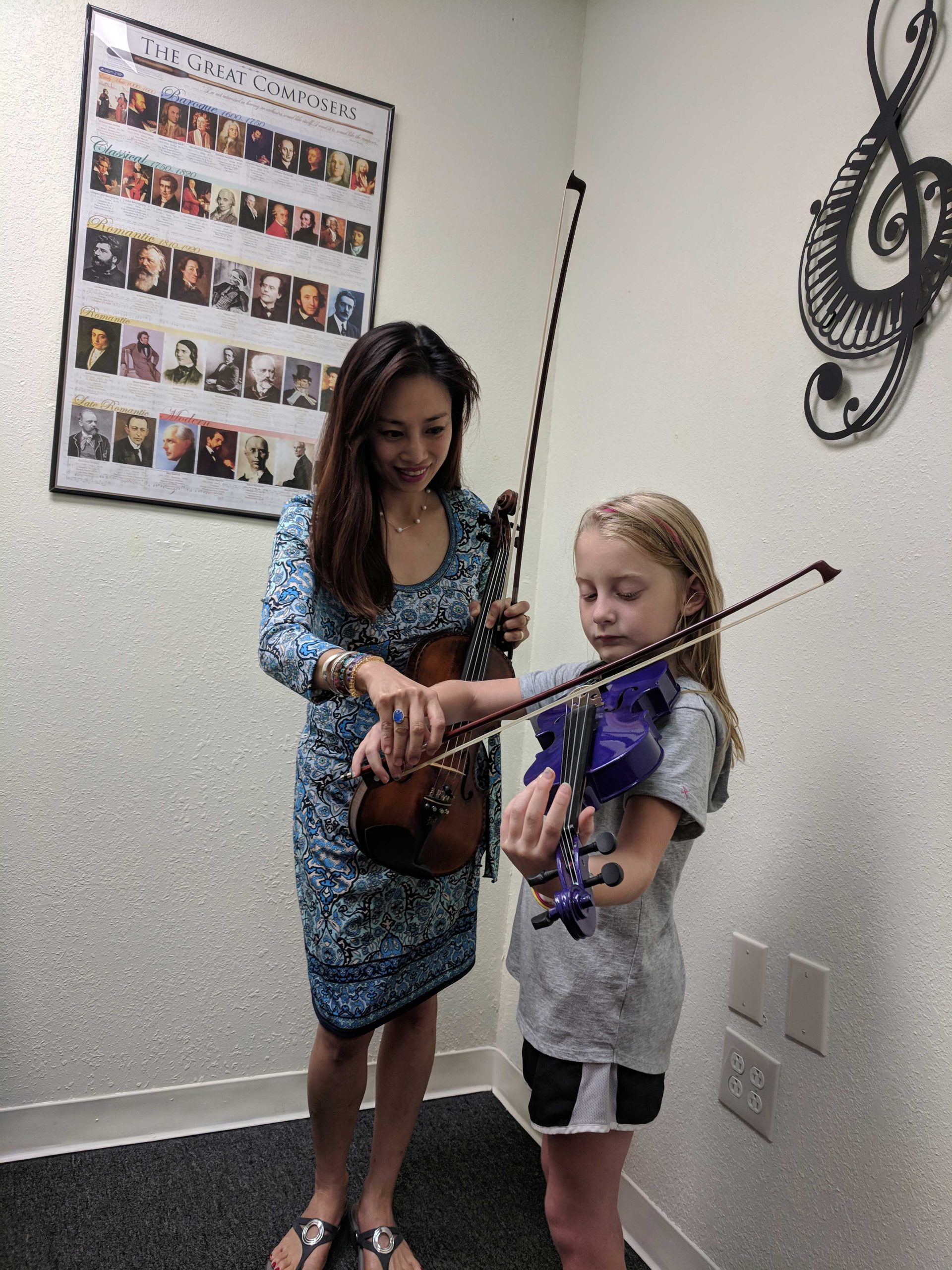 "Maya is a remarkable talent. Her prowess at the piano is breathtaking. She has an unsurpassed knowledge of the piano and its history. These attributes make her a wonderful teacher. What makes her a great teacher is her personality. She cares for her students and she knows how to bring out their best. She's been there! Maya is disciplined and holds her students accountable in a positive way. She is very patient and understanding of the struggles that students encounter. She makes you want to be a better student. I thank my lucky stars that I have Maya as a teacher. Anyone wanting to learn the piano could not find a better teacher."
– Richard Sturgeon, Lawrence, KS